Hello friends. I'm using my blog for personal use today. Back when we got married, I was actually a two-dress bride. I purchased this beautiful gown by
Watters & Watters
at a wedding gown boutique for pre-owned gowns. It was such a great price and fit me perfectly without alterations, and I just thought it was meant to be, so I bought it. Months later, I completely regretted it. I wanted a short dress. It was just my personality, and I purchased my actual wedding dress few months before our wedding.
Well, folks, I still have this one for sale. I've had so many interested buyers, but unfortunately, the dress was hemmed for a 5'6 tall bride who wore ballet flats on her wedding day, so most brides trying on this dress can't wear heels with it (which I totally understand!).
I figured I'd post some photos to see if anyone out there is interested. I'm selling it for $250, plus shipping costs if you're not local. The dress retails for around $1,400 in Chicago and I purchased it for $900 (including taxes). It's a size 8, and it's in almost perfect condition, with two exceptions:
1. There is a tear on the inside lining, but you can't see it, and it can easily be fixed.
2. Some of the ruching details on the bodice are coming lose, but again, with a few stitches, it's an easy fix.
Otherwise, the dress has been professionally cleaned, and I've been taking really good care of it since :)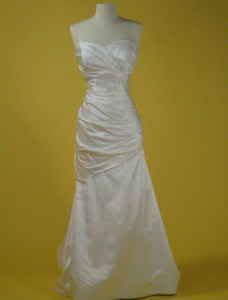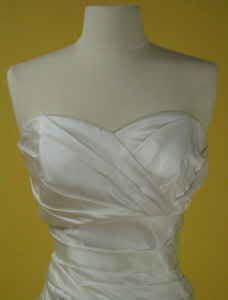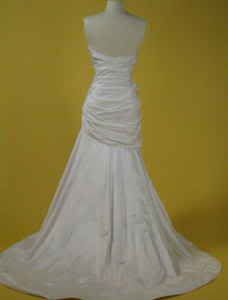 E-mail me at theelegantowl@gmail.com if you're interested in hearing more! :)
Thank you for letting me use this post for my own benefit.