Last week,
I posted
a few selections from
White House Black Market's new Wedding Boutique
.
Well, little Owl readers, this weekend I had a huge moment of weakness. Let me explain.
Back when we were planning our little 75-person wedding, I, like most brides-to-be had a few "dream wedding gowns" in my head. And by "dream gown," I mean gowns that were so far out of my price range, I would need to win the lottery to afford them. Or not have a wedding at all, and just spend our entire budget on this one gown, and wear it around town for a day.
If I had an unlimited budget, these would have been the final two choices: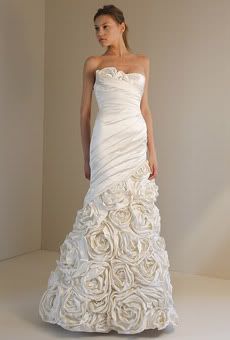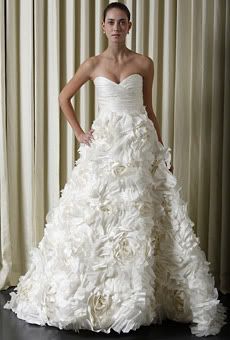 Both photos courtesy of
Brides.com
, gowns by
Monique Lhuillier
.
I'm rather obsessed with floral appliqué on gowns and dresses. I covet them, in fact. This past year of newlywed shopping, I've found a few (non-bridal) dresses at boutiques and department stores that had this detail, but they never quite fit. They were too poofy, or made my bum look huge. I gave up on ever finding that one special occasion dress I could just, well, have. That one dress I would wear maybe once a year to a wedding or other special event, that would make me feel incredible.
Well, people, the WHBM Wedding Boutique collection had MY dress, and here she is: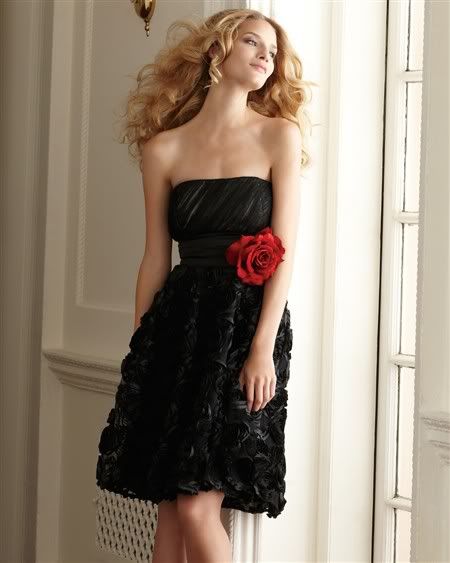 Photo courtesy of
White House Black Market
Had this dress come in white while we were wedding planning, it would have been my wedding dress. When I first saw it online, I scoured all the Chicagoland stores to see if any carried it. Not a single one did. I happened to be out at a mall on Saturday, and just wandered into a WHBM store, not expecting to see it, but you know, just in case. Lo and behold, at the back of the store, there she was. I gave Mr. Owl the look - the one that tells him I've just seen the eighth wonder of the world, and he says to me, "Yeah, go try it on."
So I do.
And, it's perfect.
And, after walking around the mall for another hour, I went back and bought it.
It was quite the splurge, and I feel slightly guilty, but in the end, I decided that after this purchase, I probably wouldn't ever need to buy a Little Black Dress ever again. I'll happily wear this little number to every special occasion we have for years to come. And oh my goodness, the shoes I have that will go with it!
And future brides, if you're having your girls wear black, this dress is absolutely gorgeous, and is one they'll definitely want to wear again. And, as far as the cost factor, for a bridesmaids dress, it's rather affordable.
Onto my review of the dress:
1. It's very well constructed. From afar, it looks like a couture dress. Close up, while it might not pass for Prada, it still looks amazing.
2. The fit is wonderful. It comes with top-half boning for shaping and support. No undergarments needed with this one!
3. It cinches at the waist, which is perfect for an hourglass figure.
4. The top rouching detail just adds an extra something to an already lovely and interesting dress.
5. It passes my "twirl-worthy" test, meaning it's poofy enough to give a slight 50s vibe, but it's also contained enough for a modern feel.
It's an A+, and Owl-approved!