Literally!
Mr. Owl, myself and the new doggie are taking our yearly July 4 weekend trip to Harbor Country, Michigan. It was two years ago July 3 that Mr. Owl popped the question on this same trip. After one year of city life in Chicago, we both decided we needed a break from the hussle and bustle, and randomly chose Harbor Country after we heard the phrase, "The Hamptons of the mid-West" used on several online message boards. We rented a basic, cheap cabin that was pet-friendly, packed up the car with beach towels, coolers and lawn chairs, and we were off.
I can honestly say that it's one of my favorite places to be. It's not fancy, and I like that. It's rustic, but has a fully-equipped bathroom (phew!). Our cabin overlooks the most charming lily pond with the sound of bullfrogs all day and night. We have our own picnic table and Weber Grill for cookouts. The beach is a quarter mile from our cabin. There's a charming little gourmet food boutique called The Whistle Stop just down the road, a Swedish Bakery a short drive away with giant pastries for almost nothing, and wine country is a 20-minute drive with some amazing views along the way.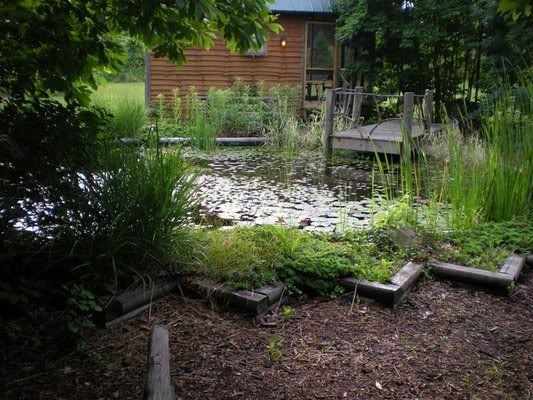 Lily pond view from our cabin.
Beautiful beach along Lake Michigan.
View of the harbor from one of our favorite restaurants in the area.
And during our first visit there, in the middle of all that wonderfulness, Mr. Owl asked me to be his wife. It was perfect. And I love going back there every year to make smores, play cards on our screened-in porch, let the doggie run around in the grass and spend lazy days at the beach with a stack of wedding and design magazines.
I'll be off on Monday, but Happy July 4, everyone! I'll be back on Tuesday with the usual wedding amazingness.