If a client ever asks me, "Would you recommend we see each other before the ceremony?" my answer will always be an enthusiastic YES! As a
wedding coordinator
, and a former bride, I have so many reasons why I'm a fan of the first look that I decided to list them in bullet point form.
- First looks are intimate. You can arrange it so it's just you, your groom and the photographer. Or, you can make it a larger, personal celebration with your wedding party and parents. You'll have more time to let emotions sink in because, as opposed to a two-minute aisle walk, you'll have as much time as you need.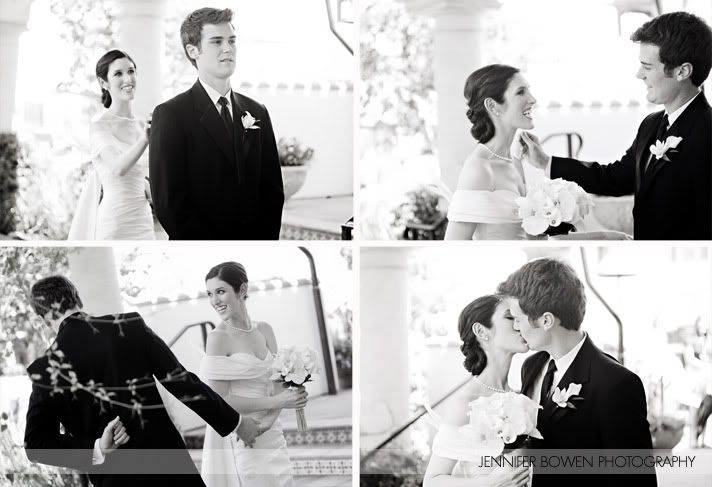 Photo courtesy of
Jennifer Bowen Photography
- You'll likely get better reaction photos. Sometimes it can be difficult for the photographer, based on position or lighting, to get that perfect shot of the groom's reaction the first time he sees his bride on the wedding day, walking toward him down the aisle. During the first look, your photographer will pick the perfect spot and therefore, the perfect picture. Also, because it's just the two of you, you'll probably let your guard down and have bigger reactions to each other. If you're like me, you won't be able to take a mental snapshot of your groom's face as you make your way to him down the aisle because you're too overwhelmed! I have no idea what Mr. Owl's face looked like as I made my way to the altar. But luckily, during our first look, I took it all in, and our photographer got the perfect photo of his reaction.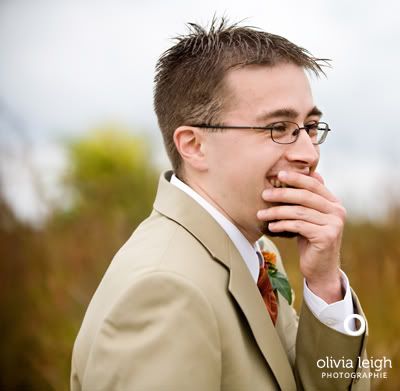 Photo courtesy of
Elizabeth Anne Designs
- You'll have so much time for photos, and you'll be more relaxed. A lot of brides don't know that generally, photographers like at least 45 minutes for photos with just the bride and groom, and an additional minimum of 30 minutes for the wedding party. When you get all, or most, of your photos done before the ceremony even begins, you'll feel better about the day's timing. After the ceremony, you'll have either a short family portrait session, or no photos at all, and you'll be free to attend cocktail hour without the extra stress of fixing your make-up or worrying if you have time to taste the mini crab cake hors d'oeuvre you've been looking forward to.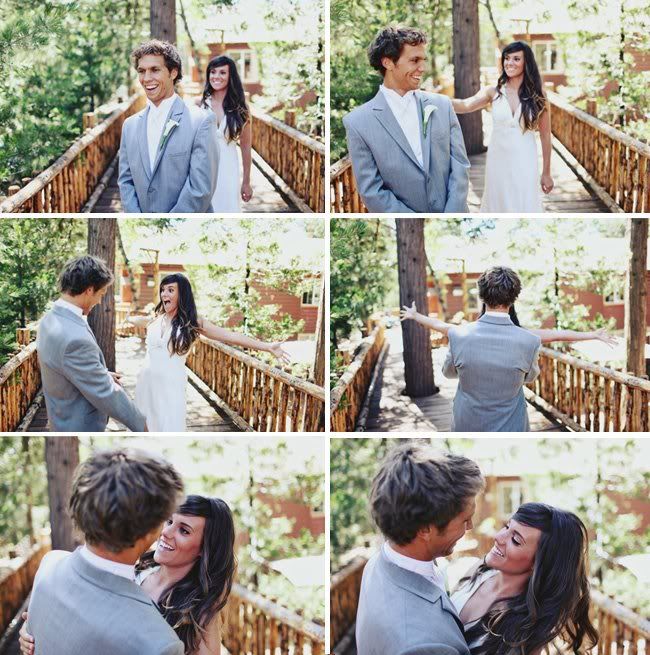 Photo courtesy of
Wedding Cabaret
- You'll see more of your guests. Cocktail hour can be spent mingling with your guests, and if you have a smaller wedding (100 guests or under), you'll most likely see them all before the reception, meaning you won't feel as pressured to make the rounds during dinner and dancing.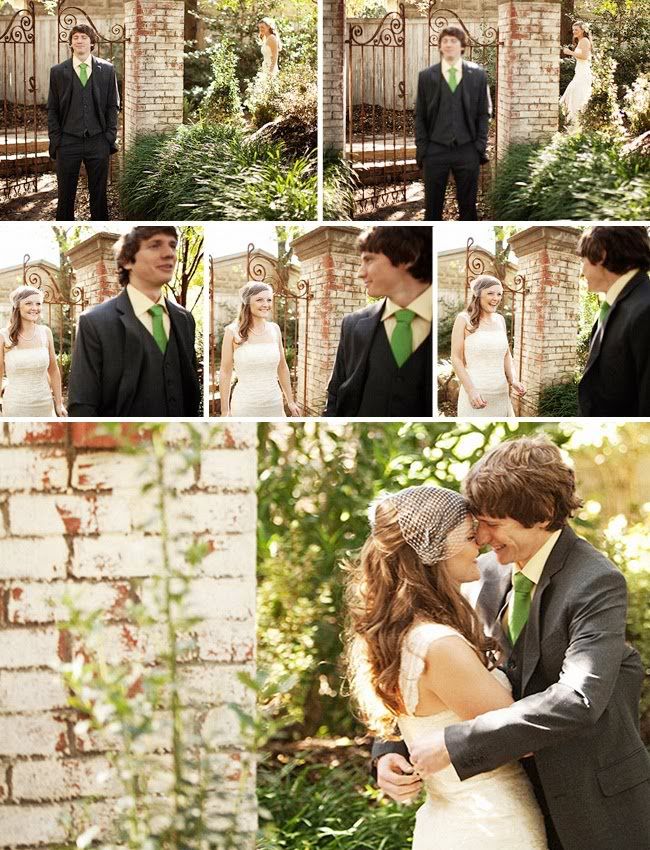 Photo courtesy of
Green Wedding Shoes
- Your wedding party will thank you. They'll also get to leave right after the ceremony to grab a drink and get some food in their stomach during cocktail hour.
Of course, a first look isn't for everyone, and I more than understand that. Every bride and groom needs to do what's best for them. But, if you're open to it, I will always, always, always recommend it. The Owl's fabulous DOC,
Jeanne Stark
, gently pushed us in this direction, and we're so happy she did.