Personally, I'm partial to edible wedding favors, and that's because no matter what, it's pretty much guaranteed I'll eat it - meaning the bride and groom's money didn't go to waste. Food is universal, and the men, women and children guests will all love it. Be it a candy buffet or jordan almonds carefully wrapped in a personalized box, it will make for the perfect after-party treat.
Here are some of my favorite, unique wedding favors that guests will definitely appreciate.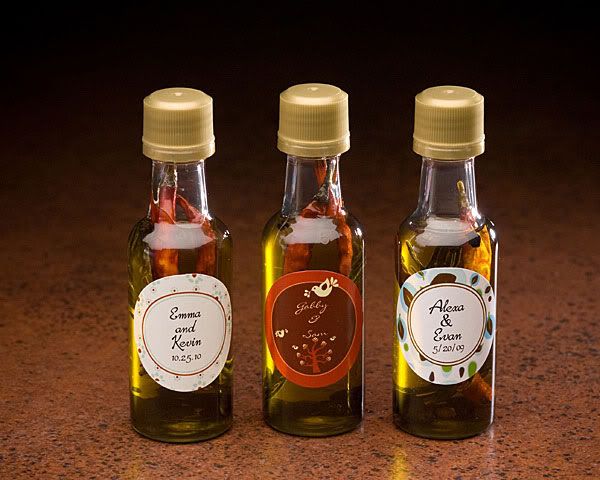 Bottles of olive oil,
My Wedding Favors
. I don't cook often, but when I do, I almost always have a need for olive oil, so your guests are sure to use it post-wedding. For an added personalized touch, buy large bottles, dispense into smaller bottles (
World Market
has great mini bottles!), and add your own herbs. On the tag say, "Bottled by us, just for you!"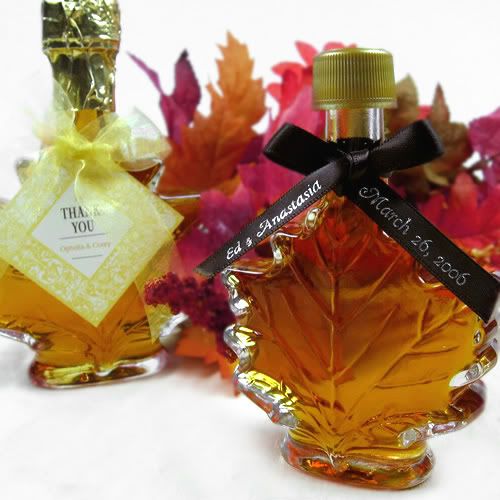 Maple syrup,
Beau-Coup
. Perfect for a fall wedding (especially if burnt orange is one of your colors). The great thing about this favor is that its available in all different jars, from the traditional maple leaf, to jugs, to simple bottles. Plus, who doesn't love pancakes? This favor is sure to be consumed, and loved, by your guests.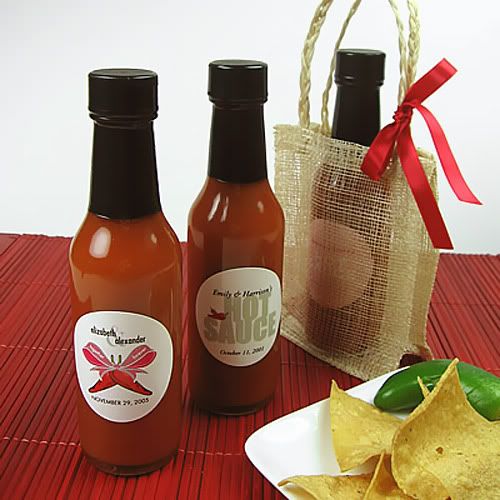 Hot sauce,
Beau-Coup
. This would be great for a backyard picnic, Mexican or BBQ-themed wedding. Or, for any wedding that's being held in Texas!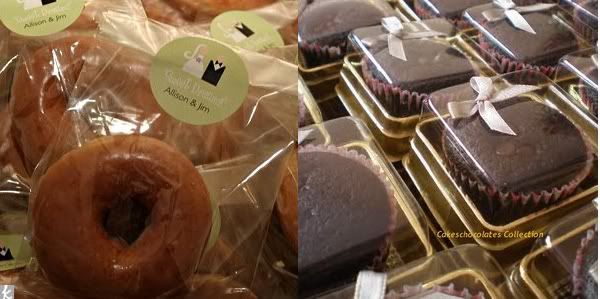 Morning-after breakfast box; pictured above are doughnuts from
WeddedLuxe
and muffins from
Lakes and Cupcakes
. Send your guests off for the night with a mini breakfast basket for the next morning. Either prepack some muffins, doughnuts and other pastries in a cute box, or provide a "breakfast bar" for guests to choose their own goodies, and wrap-up themselves. Either way, consumption of this favor is guaranteed.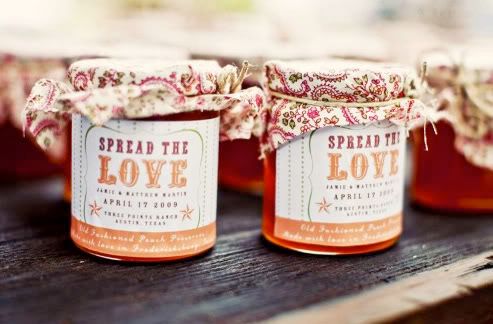 Homemade jam, via
OnceWed
, photographed by
Steven Myers
. I love homemade favors. And I can also always find a way to use jam, be it for breakfast toast or in a baking recipe. If you have a family member that happens to know how to make tasty jam, ask them to do you a solid and create a batch for your favors, and bottle it yourself, complete with a tag that says, "Aunt Sue's Famous Strawberry Jam."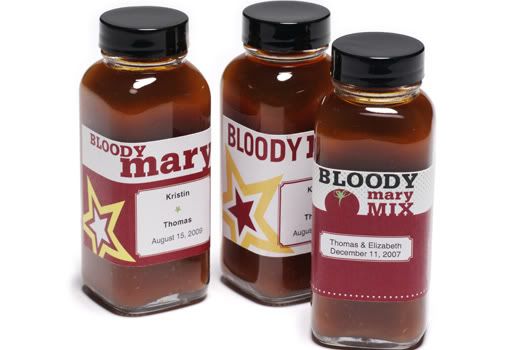 Bloody Mary mix,
TheKnot
. Same idea as the morning-after breakfast, but geared toward the friends and family members that may need a different kind of pick-me-up the next morning. If you have room in the budget, throw in a mini bottle of vodka for easy access to a complete bloody mary drink the next morning.
Honey, via
Snippet & Ink
, photographed by
Stepanie Colgan
. Love is sweet, and so is honey. It's that simple. If you have extra room in your budget, supplementing the honey with a lovely bag of tea would be the buttercream on the cake.
So, there you have it! Are you giving out edible favors at your own wedding? Have I left out any unique ideas you'd like to share?