And we're back on this lovely Friday with Mr. Owl's guest blog, a dude's perspective on the wedding day: the conclusion. I might have even thrown in some photos this time around. Have lovely weekends, everyone, and enjoy!
The Ceremony
Mrs. Owl and I had discussed early on how we wanted our ceremony to be and we both agreed on one main point: it needed to be relatively short. Once we had agreed that our ceremony should be about 20 minutes, everything else feel into place.

As we lined up to walk down the aisle, I stood there next to my parents and I still wasn't nervous. More excited that this day had finally arrived. Once at the altar, I began to wonder how I would react when I saw Mrs. Owl at the end of the aisle. All I can say is that I was ecstatic. Here was my best friend coming towards me ready to pledge the rest of her life to me, how could I not be thrilled?

Saying our vows, though, was the highlight for me. Both Mrs. Owl and I wrote our own vows and we decided that anything was up for grabs, and that they would be a surprise for each other until the wedding day. As you know, Mrs. Owl truly does love owls, and they were part of my vows to her. Like owls are to my wife, 'You will always be one of the things in this world that will always fill me with happiness and excitement,' I recited. 'You get excited over the littlest things in life, like an 8-inch tall owl, and I will always love you for that because it makes me feel young.' Trying to read my vows without choking up was hard enough as it was, but then Mrs. Owl started crying about 20 seconds in and it was pretty much game over. But, I managed to muster through somehow.

One thing we struggled with while creating our ceremony was that we didn't have a lot of traditions. We both recited the "in sickness and in health" vows as we exchanged rings, but the sand ceremony and unity candle just weren't our style. Mrs. Owl has always loved the traditions of Jewish ceremonies, but since neither of us is Jewish, we questioned whether it was appropriate to incorporate any Jewish aspects in our ceremony. During our rehearsal, a day before our wedding day, I casually mentioned to our wedding coordinator that we wished we could break the glass and shout "Mazel Tov!" to which our coordinator responded, "Why don't you?" Before I knew it, our coordinator was explaining the tradition behind breaking the glass, and how we could adapt it to our non-religious ceremony. I was so nervous that I wouldn't be able to break the glass and there would be that moment of awkward silence as everyone starred at me. My first stomp was slightly off and the glass didn't break. I think my exact thoughts were, "Oh crap." I made up for it though with the second stomp and Mrs. Owl and I screamed "Mazel Tov!" We may have been the only ones to say it, though. In hindsight, we probably should have explained to our guests what the heck we were doing. We still loved that moment nonetheless, and kept the broken glass and we'll eventually get around to displaying in our home.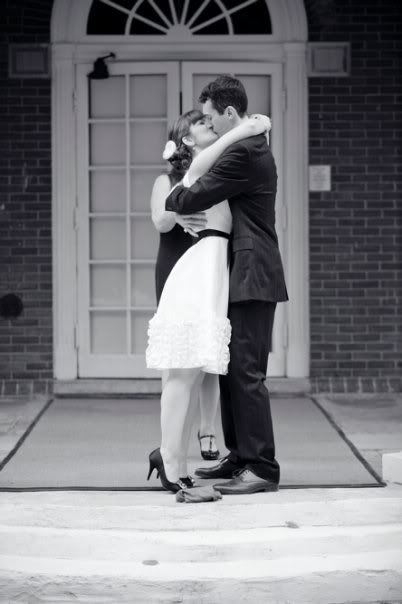 First kiss as husband and wife. Photo by
Catherine Leonard Photography
.
The First Dance
The first dance was my idea. Mrs. Owl had no interest, but I thought it was a really important part of the reception. We had eliminated a lot of other wedding-y events like the garter and bouquet toss, but I really wanted the first dance to stay. Mrs. Owl's only condition was that it be less than three minutes because anything longer than that and I think she may have left me on the dance floor (she does not enjoy being the center of attention). After months of deliberation, we settled on "That's How Strong My Love Is" by Otis Redding and practiced a routine so that we didn't look totally lame during the actually dance. I thought it went off quite well. People were applauding and as much of a dancer I am not (I have severe white boy dance syndrome), I really enjoyed myself. That part I was glad we didn't cut. I'm pretty sure Mrs. Owl could have done without it, though.
The Cigar Bar
This may be the one idea that was completely mine. I never smoke, but there is something about cigars (and a good glass of scotch) that scream special occasion to me. I had seen other weddings where they had done cigar bars and everyone seemed so happy. Cigar bars also make for great photos which they definitely did for our wedding. Seeing as I had never bought a cigarette, let alone a cigar, I employed the help of my uncle-in-law who is quite the cigar aficionado (he has his own humidor and everything). After he pointed me to an online store he used, he basically gave me a few guidelines for what kind to purchase and left it up to me. The cigars were quite nice and by having a set time to smoke them, we established a nice window to break up dancing when everyone could just go out to the patio and have a nice drink, cigar and have some time to chat. I highly recommend a cigar bar, even if you don't smoke because it will provide another wonderful memory of your wedding. Make sure you grab one of the cigars as a souvenir before the wedding. Our cigar bar lasted all of 15 minutes before they all had been poached. Some people will also take the cigars as a memento so make sure anyone who wants one to smoke gets a chance to grab one early on.
The Reception
I thought our reception was well planned out. It was not too long, yet it still had plenty of time for people to mingle, eat, and be happy. We started with a cocktail hour which most every wedding has now. Mrs. Owl and I purposely took the majority of our photos before the ceremony because we knew we wanted to be at our cocktail hour. It was nice to see so many people before dinner and it gave us the opportunity to mingle quite a bit before the reception. Our reception was beautiful. One of the purchases I struggled with that Mrs. Owl insisted we get were special chairs because the ones provided at our venue were, in her words, "barftastic." The cost to rent about 80 fancy chairs was overwhelming, but I caved because I trust Mrs. Owl's judgment. When I entered our reception room, the first thing I said to her was, "Oh my God! The chairs totally make the room!" Yes, I admit, I was wrong, she was right.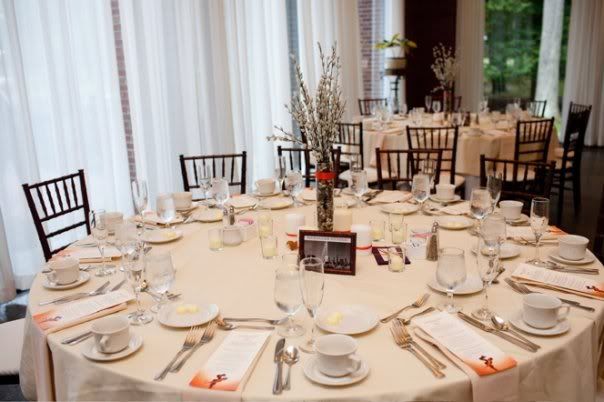 Our reception tables. Photo by Catherine Leonard Photography.

The food was delicious, although Mrs. Owl did not really eat much of it (she gets nervous/excited tummy syndrome). Since Mrs. Owl and I are quite controlling, we went without a DJ and instead used an iTunes playlist, which our DOC manned the entire night. Great decision on our part in my opinion. We saved about $600 and got to pick all of the music for our reception. It was exactly how we wanted it. We ended up playing our favorite songs twice, and because I missed my favorite song of all time ("Don't Stop Believin' ") while I was out smoking my awesome cigar, Mrs. Owl just went back over to her MacBook when I came back in and played it again, and we danced together to all our favorite songs for the rest of the night.

The night was truly perfect.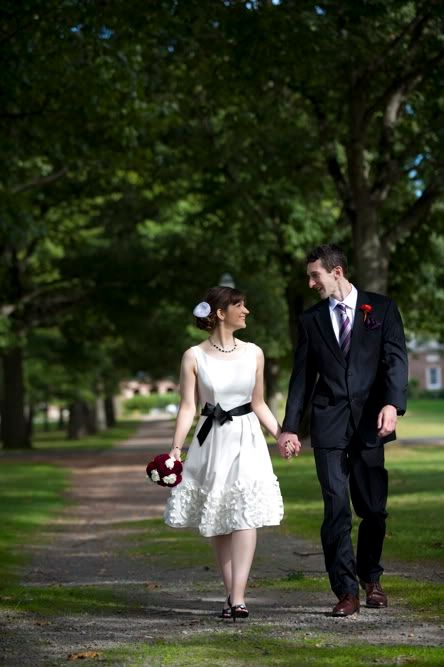 Photo by
Catherine Leonard Photography
.