One of my favorite things to see at a wedding is something personalized. I love seeing how couples choose to style their wedding so that both the bride and the groom's personalities shine through. When I stumbled upon today's Etsy Spotlight designer, I instantly knew this would be such a fun addition to any wedding.
Love Smart Design
is totally on target when it comes to adding personality and lot of fun to weddings with their games, puzzles crosswords!
I was fortunate enough to get the skinny from Ursula, the creative mind behind Love Smart Design! Take a look.
"For as long as I can remember, I have loved puzzles and games – not just crosswords, but everything from 4-hour strategy games to Nintendo to NPR's Sunday word puzzle. I see Love Smart Design as my chance to share this enjoyment in a special, personalized way.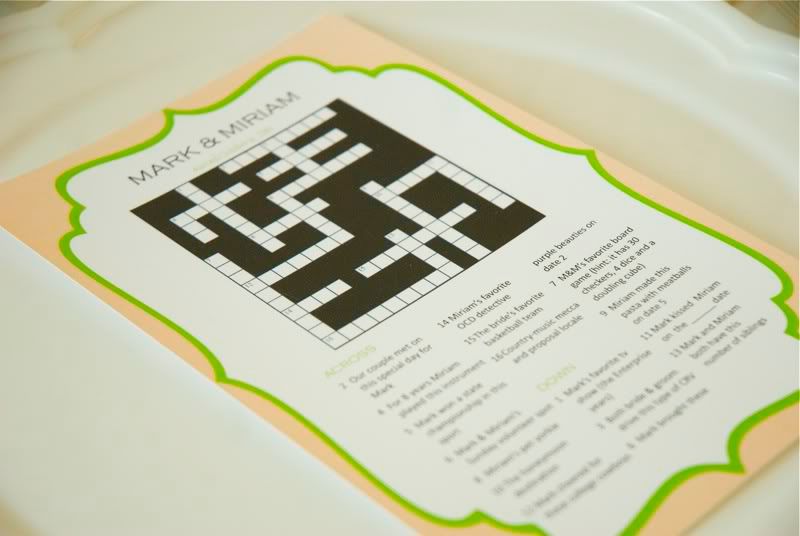 "For me, puzzles and games are the perfect way to have fun with people I know and love, and to get to know new people. It still amazes me when I'm doing puzzles with a group of people how each person has something unique to contribute. It wasn't until I started planning my own wedding that I realized the importance of helping guests interact and get to know one another as well as the bride and groom. When you think about it, very few of the guests know both the bride and groom, and even fewer know the interesting experiences they've had as individuals and a couple. Weddings are such a memorable milestone in people's lives, and puzzles are a great way to make these milestones more personal and fun.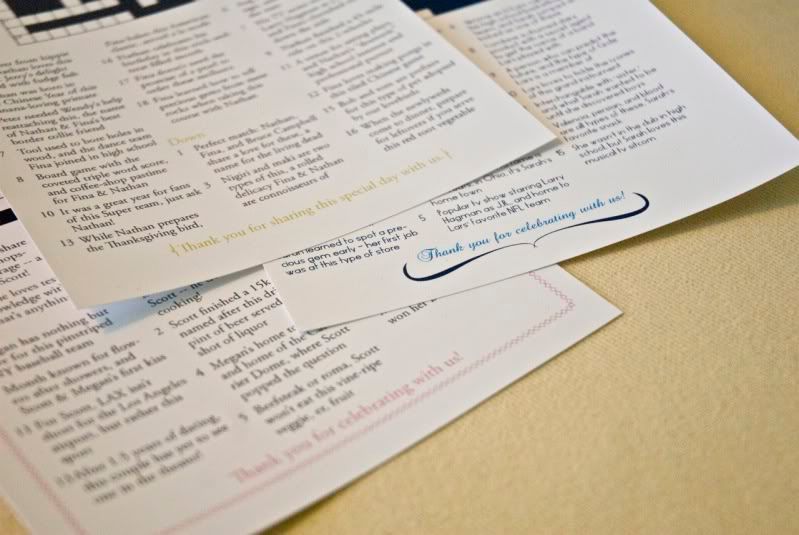 "I started my Etsy Shop with custom crosswords, word search puzzles, and icebreaker bingo games because these are familiar to the widest audience. What we offer – fully personalized puzzles, clues crafted specifically for you and a completely customized design – is unique. We tailor the fonts, colors and graphics to meet a client's specific needs, and let's face it, we brides can have very particular needs and requests when it comes to these sorts of things. As my Shop grows I plan to include more of my original puzzle creations in addition to the more popular ones.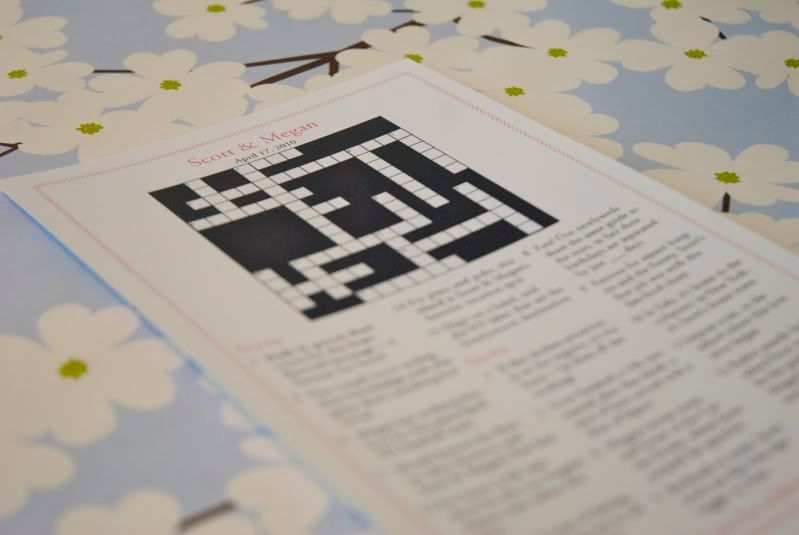 "I am probably one of the luckier entrepreneurs out there because when I need creative inspiration, I play! I pick up a paper and solve a crossword, do some brain teasers from any of the many books around the house, break out the strategy games, or, if my husband doesn't mind losing (sorry, Tom), start up a game of Scrabble. For the designs themselves, I've spent my career working in the publishing industry, so I'm always surrounded by interesting fonts, layouts, and designs, and when in doubt, Martha Stewart has a way of breaking even the toughest creative blockage.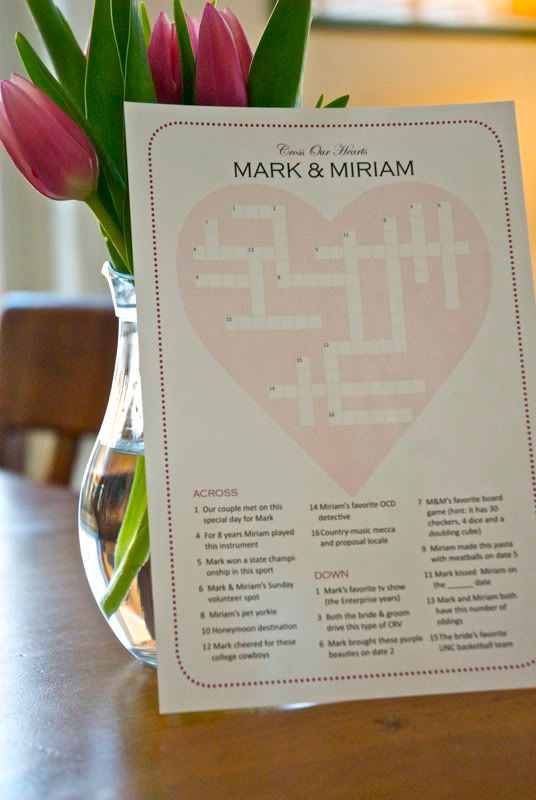 "Once a client has decided to work with me, and after they have selected a puzzle or game, the next step is to fill out an information form prompting them for all sorts of facts they can include in the puzzle – a fun exercise, especially for a bride and groom. These facts may be about them as a couple, such as the date of their first kiss and the proposal location, or funny stories from their relationship, like the time the groom fell through the ceiling of the bride's parents' house the first time he met them. The bride and groom can also include facts about themselves as individuals. These facts help the friends and family from the 'other side' learn more about them.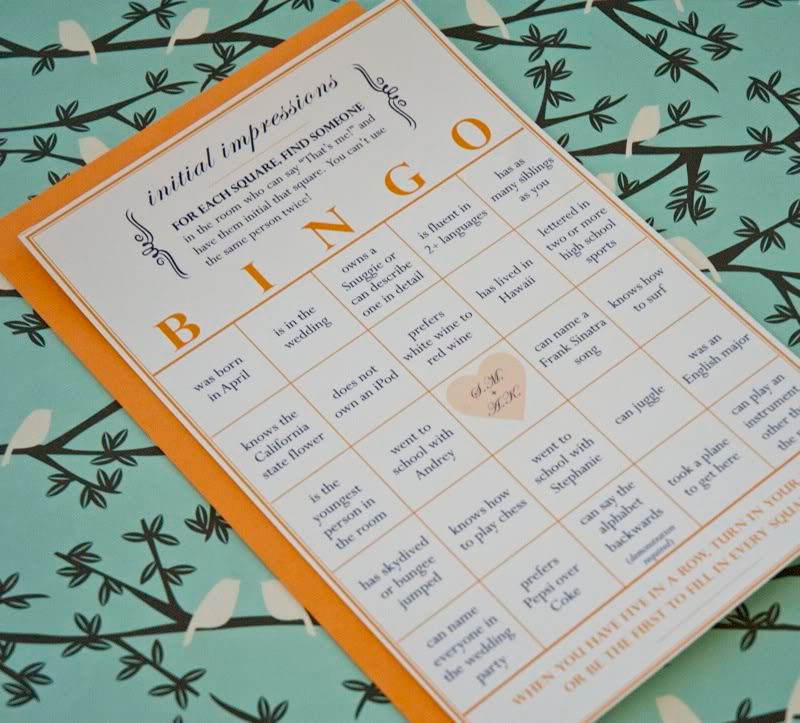 "Because I tailor the design to each event, I ask clients to provide information regarding the style of the event, the color scheme, and fonts and patterns they would like me to incorporate into the design. And I always encourage brides in particular to send photos of items they would like the puzzles to complement, such as menus and invitations.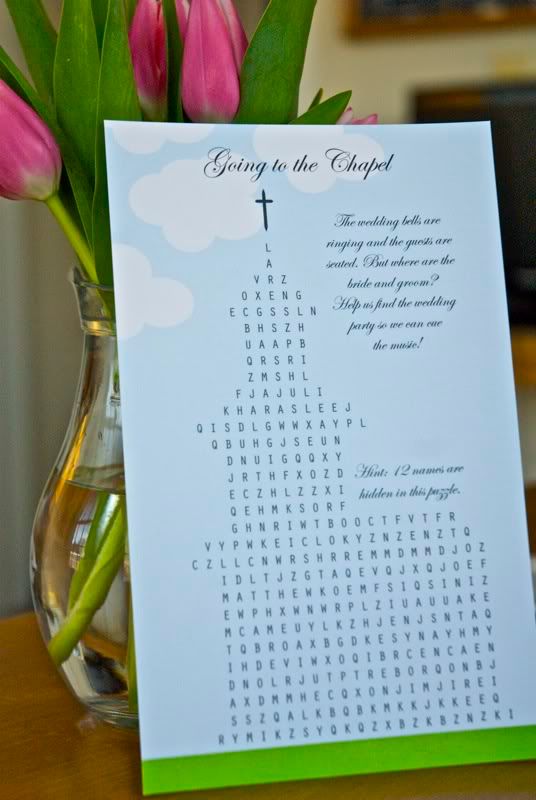 "Once I receive this information, I get to work! For custom crosswords, I craft clever clues that combine both general and personal information, and run through dozens of layouts to create a well-balanced puzzle. Next I start working on the designs. I typically create two to four different designs for the client to choose from, and I send these to the client with a feedback form. Once the client's changes have been incorporated and a final proof has been approved, I print and ship the puzzles. The process takes approximately 4 weeks from start to finish."I love all my children, er, puzzles equally, but I am especially proud of the suite I created for my own wedding and distributed to guests as part of their welcome baskets. I created a fairly elaborate series of 4 puzzles that my guests had to crack to solve one final puzzle – the first person or team to finish took home the prize. As an added twist, to solve the puzzles everyone had to interact with people from both sides of the family to ascertain certain facts about us. Hilarity ensued. Until a winner was named, our families resorted to trickery and bribery to get the information they needed to solve the puzzles – two months after our wedding everyone was still talking about it!"
Thank you so much to Ursula at Love Smart Design for taking the time to share her work and talk to us today! If you'd like to see more examples of Ursula's puzzles and games, or are interested in inquiring about a custom puzzle or game for your own wedding, but sure to visit her
Etsy Shop
!
(All photos courtesy of Ursula and Love Smart Design)